Below are events which you are encouraged to attend. After you attend event, simply write a 250 - 300 post and include a selfie at event to receive extra credit. Title post by event name. Remember to label as usual 2018YourLastNameYourFirstName. Posts are due within two weeks of event.
SPRING 2018 EXTRA CREDIT EVENTS
Friday, May 18, 2018 9am - 5pm The Charles E. Young Research Library's Conference Room
Stencil Workshop 11am - 1pm. Register onsite.
The 2018 UCLA LGBTQ Studies Program Presents the 5
TH
Annual 2018 QScholars Undergraduate Research Symposium!
"The Power of Storytelling: Exploring Resilience, Resistance, and Struggle in Queer Narratives"
This year we are honored to welcome the actor, writer, and comedian
D'LO as our keynote speaker!
When:
Friday, May 18, 2018, 9-5pm
Location:
The Charles E. Young Research Library's Main Conference Room @ UCLA
**Event is free but you must register
here
May 3 - June 24, 2018 (Opening Reception: Sunday, April 29, 2-5pm)
See Sandra de la Loza in the group exhibition "2018 City of Los Angeles (CO:A 2018) Individual Artist Fellowships Exhibition."
Ranging from video and sound installations to photography, this year's COLA fellows explore themes of erasure and reclamation of histories, migration, family archives, and empowered/disempowered female representation in popular media. Many of the artists have responded to today's social and political climate in the creation of their new works.
Since 1997, the Department of Cultural Affairs has awarded COLA fellowships to support a select group of outstanding artists with a $10,000 grant for the creation of new art works. COLA 2018 at LAMAG not only honors the artistic achievements of these highly accomplished artists, but also celebrates their contributions to the City of Los Angeles - a city that has proven to be a diverse cultural and creative capital of the Pacific Rim.

The COLA 2018 artists were identified through a competitive application process and selected by a panel of arts professionals. This year the selection panel included Marcela Guerrero, Whitney Museum Assistant Curator, Edward Hayes, Director of Exhibitions, Museum of Latin American Art, Isabelle Lutterodt, Director, LAMAG and Barnsdall Park, and Emily Zaiden, Director, Craft in America Center. COLA 2018 is organized by Steven Y. Wong.

COLA 2018
includes works by eleven visual artists, including
Dave Hullfish Bailey
,
Guillermo Bert
,
Terry Braunstein
,
Cassils
,
Sandra de la Loza
,
Michelle Dizon
,
Tim Durfee
,
June Edmonds
,
Michele O'Marah
,
Julie Shafer
, and
Doris Sung
.
."
March 25-July 15, 2018 at LACMA.
City and Cosmos: The Arts of Teotihuacan
March 25, 2018–July 15, 2018
The ancient city of Teotihuacan flourished in central Mexico in the first millennium CE. This multi-ethnic, cosmopolitan city was the largest urban center in the Americas in its day. City and Cosmos: The Arts of Teotihuacan presents recent findings from Mexican national and international archaeological projects excavating at Teotihuacan's three main pyramids—the Sun, Moon, and the Feathered Serpent—and major residential compounds. These discoveries have fundamentally changed our understanding of the city's history.

City and Cosmos focuses both on the main pyramids and residential compounds to explore the central question of how the city worked to create a cohesive civic identity. Featuring both monumental sculptures and buried offerings, the exhibition also emphasizes how artworks relate to place, both above and below ground. New discoveries reveal that both visible and buried works were arranged in specific ways to commemorate the city's ancestral foundations and to forge relationships with vital, essential forces such as fire and water.
Organized in collaboration with Mexico's Instituto Nacional de Antropología e Historia (INAH),
City and Cosmos
will provide visitors an extraordinary opportunity to see the new discoveries, many of which have never been exhibited in the United States.
Tuesday, April 10 at 6pm at Public Affairs 1222, artist Mita Cuaron will speak about her participation in the East Los Angeles High School Walkouts.
FALL 2014 EXTRA CREDIT EVENTS
Artist's Talk: Consuelo Jimenez Underwood
Thursday, November 6, 2014
CSRC Library - 144 Haines Hall
Free, no reservation required
The CSRC is pleased to welcome fiber artist Consuelo Jimenez Underwood for an artist's talk. Underwood's work is currently on view in the group exhibition Crossing Borders: Stories of Migration in Contemporary Art at the California State University, Dominguez Hill's (CSUDH) University Art Gallery. The exhibition is on view through

December 4

.
Underwood has exhibited and lectured nationally and internationally for more than twenty-five years. Her work is part of the permanent collections of museums, including the Smithsonian American Art Museum, the Museum of Arts and Design (NY), the National Hispanic Cultural Center (NM), and the Mexican Museum of San Francisco. Her contributions to the contemporary Chicano and Fiber art movements have been referenced in multiple publications. She began teaching fiber art at San Jose State University after receiving her MFA there in 1987. "My work reflects the quiet rage that has permeated the Americas for more than five hundred years," she says.
The artist was inspired by her father who was of Huichol descent. She remembers wearing colorful dresses that he would weave for her on a frame loom. Her mother would spend hours doing needlework, which would then be used as utility or decorative cloths. Years later, these memories influenced her decision to implement the "thread arts" as a viable means of artistic expression. The artist will bring one of her handmade rebozos to this event.
November 1, 2014 - January 24, 2015
Alinka Echeverria exhibition at UCR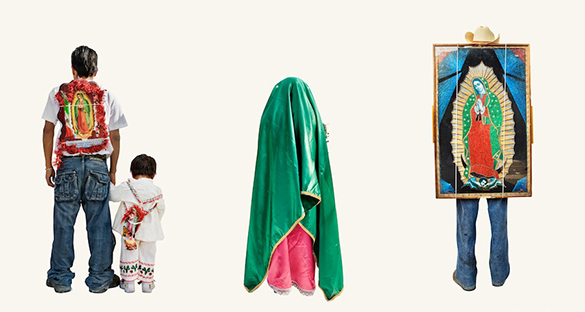 Alinka Echeverría
Faith and Vision
California Museum of Photography
November 1, 2014 - January 24, 2015
| | |
| --- | --- |
| Opening reception | Saturday, November 1, 2014, 6pm - 9pm |
| Artist talk | Saturday, November 1, 2014, 6:30pm |
The California Museum of Photography at UCR ARTSblock presents Alinka Echeverría: Faith and Vision, the artist's first solo museum presentation in the United States. Echeverría's work, which equally engages the histories of fine art and documentary photography, investigates the relationship between seeing and believing.
The exhibition features an immersive installation of Echeverría's celebrated series "The Road to Tepeyac" (2010), as well as work from the artist's new project "Deep Blindness" (2014). Additionally a new iteration of the 2012 project "Small Miracles" (2014) will be temporarily installed on the Culver Screens, located on the façade of the Barbara and Art Culver Center of the Arts at UCR ARTSblock.
The exhibition will be accompanied by an academic conference organized by Jennifer Scheper Hughes, Associate Professor of History at UCR. The conference, "Objects of Faith," will be hosted at the Culver Center for the Arts, part of UCR ARTSblock, on December 12 and 13, 2014.
For more information, address, hours, directions and etc., go to: http://artsblock.ucr.edu/Exhibition/Alinka-Echeverria
Sunday, November 2, 2014
4:30 – 6:00 pm
Art tour is limited to the first 100 attendees. First-come first-served.
Celebrate life (and death) with Metro on a special Day of the Dead themed art tour. The free, one night only tour explores artworks in the Metro system through the lens of the artist Consuelo Flores, an established poet, writer, mixed media, installation and performance artist who is respected for her understanding and promotion of the true celebration of the Day of the Dead. The tour begins at the East LA Civic Center Station and ends at Self Help Graphics' 41st Annual Día de los Muertos (Day of the Dead) Celebration.
Dia de Los Muertos Student Exhibition at Vincent Price Museum
ELAC, 1301 Avenida Cesar Chavez, Monterrey Park, CA 91754
Reception: November 1, 2014 @Noon
Exhibition: November 1 - 20, 2014
11th Annual Student Altars




November 1 through 20, 2014


Community Focus Gallery

ELAC students in Chicano Studies 7 and 54 will be participating in this campus tradition to commemorate the Day of the Dead, or Dia de los Muertos. The altars, or Ofrendas, will honor various aspects of religion in ancient Mexico, including the Mesoamerican culture, Mexican Revolution & Soldaderas, immigration, historical women, Guadalupe-Tonantzin, and traditional family cultures. Angelita Rovero is the faculty organizer of this exhibit.
A student reception is planned for

Saturday, November 1st

, at

noon

.
9 Awesome Dia De Los Muertos Events In Los Angeles
http://laist.com/2014/10/24/9_of_our_favorite_day_of_the_dead.php
Dia de los Muertos celebrations that honor those who have gone to the other side kick off early this weekend in Los Angeles. We've got events throughout the city that will have music, dancing, and food, as well as art exhibits and ceremonial altar decorations. Most of these events encourage folks to get in the spirit of this Mexican holiday and dress up with calavera (skull) and calaca (skeleton) makeup and costumes. Here are some of our favorite events.
Olvera Street
Olvera Street will be having a days-long celebration for Dia de los Muertos from Oct. 25 to Nov. 3 with daily events at the El Pueblo Historical Monument. This includes nightly candlelight Novenario processions honoring the deceased from Oct. 25 to Nov. 2 starting at 7 p.m. each night. Free sweet bread (pan de muerto) and champurrado (a Mexican hot drink) will be served to folks who stop by. And on the weekends, expect celebrations with "face painting, street theater performances, strolling mariachi bands, Aztec dancers, art workshops, puppets, ballet folklorico, piñatas." Decorated altars will be on display in the plaza and in a number of stores on Olvera Street throughout this celebration.
There will also be an
here
.
Grand Park
Over in downtown's Grand Park, you can celebrate Dia de los Muertos on Nov. 1. From 3 p.m. to 10 p.m., there will be a bevy of musical acts like electronic group Palenke Soultribe, Aztecan and Oaxacan dance troupes, art installations, decorated altars on display and food vendors. Most importantly, there will be a bar at the event. If you want to get your face painted (yes, adults are welcome to do it), it will cost $5. Find out more info
here
.
Hollywood Forever Cemetery
The Hollywood Forever Cemetery will be throwing its 15th annual Dia de los Muertos festival on Nov. 1, so they're calling it their "Quinceañera." The 12-hour event goes on from noon to midnight that day, with musical performances from the likes of Mexican indie-pop singer, Carla Morrison, to L.A.-based band La Santa Cecilia. There will be decorated ceremonial altars, Aztec dancers, an art exhibition, and arts and crafts vendors. And what celebration is complete without food? They'll have food vendors from around town at the event as well. Day of the Dead Calaca costumes are highly encouraged, so come dressed if you can. Tickets are $20. More info
here
.
Calavera Fashion Show At Mariachi Plaza
Tropico de Nopal Gallery Art-Space and Eastside Luv are teaming up this year to bring on their "Calavera Fashion Show & Walking Altars" event at Mariachi Plaza in Boyle Heights. Expect food, a beer garden, and face painting booths at this 21+ event. There will be DJs spinning on the ones and twos, and you'll also have the chance to belt out some tunes with karaoke in the plaza (we're talking about MorrisseyOke and MariachiOke). Folks are encouraged to get dressed in Dia de los Muertos attire and make sure to bring dancing shoes so you can celebrate those "who have passed to el otro lado." Tickets range from $20 to $80. More info
here
.
ArtBites at LACMA
If you're a fan of art and food, this Dia de los Muertos event might be your thing. ArtBites will take people on a tour through LACMA's collection of Latin American art on the afternoon of Nov. 1, and give you the lowdown on the holiday's myths, folklore, and also of course, food. After the tour, the group will go to Surfas Test Kitchen to learn how to make a traditional southern Mexican meal. Tickets are $100, and that includes the tour, ingredients and wine. Find out more info
here
.
San Pedro's Dia de los Muertos Festival
Over at the Historic Downtown San Pedro, there will be a free street party on 6th Street between Mesa and Centre Streets on Nov. 1. There will be Latin American cuisine, musical performers, an altar exhibition and competition and local vendors selling a bevy of different things, including calaveras and calacas. The event goes from 5 p.m. to 11 p.m. More info
here
.
Self Help Graphics & Art
This it Los Angeles OG public Dia de los Muertos celebration: Self Help Graphics & Art will be hosting their 41st annual celebration at Felicitas and Gonzalo Mendez High School in Boyle Heights on Nov. 2 from 5 p.m. to 11 p.m. There will be a traditional ceremonial blessing and food and craft vendors at this free event. More info
here
.
Rose Hills
Rose Hills cemetery in Whittier is honoring the deceased with their 5th annual Dia de los Muertos Cultural Festival on Nov. 2 from 11:30 a.m. to 4:30 p.m. You can check out an art exhibit at their SkyRose Chapel and their decorated altars. There will be food and craft vendors, and performances from local artists. More info
here
.
El Velorio at Plaza de la Raza
The El Velorio Day of the Dead celebration on Nov. 8 in Lincoln Heights will be an art exhibition and a benefit for Plaza de la Raza. From 7 p.m to 2 a.m., DJs (like KCRW's Jeremy Sole) and musicians will be playing some tunes, and there will be works of art from over 50 contemporary artists on display. Tickets are $20. More info
here
.
For more info: http://laist.com/2014/10/24/9_of_our_favorite_day_of_the_dead.php
FALL 2013 EXTRA CREDIT EVENTS
Karen Anzoategui performance at Queer Symposium
Friday, October 18 at 3:30 pm at Royce 314
Shizu Saldamando
Saturday, November 9 from 1 pm to 3 pm for art talk/catalogue signing or anytime before exhibition closes on December 7, 2013
Vincent Price Art Museum
East Los Angeles City College
1301 Avenida Cesar Chavez, Monterey Park, CA 91754-6099
For information: www.vincentpriceartmuseum.org
Patssi Valdez Dia de Muertos Installation
Highways Performance Space
@ 18th Street Arts Center
1651 18th Street
Santa Monica, CA 90404
1/2 block north of Olympic Blvd.
(310) 315-1459
Event on Nov 2 at 8:30 pm
Call for gallery hours.
October 13, 2013–Janurary 26, 2014
Chicana artist Amalia Mesa-Bains is working with the Fowler Museum's collections to create New World Wunderkammer, which will include three "cabinets of curiosity" representing Africa, the indigenous Americas, and the complex cultural and racial mixture (Colonial mestizaje) that typifies the New World. Over two decades, Mesa-Bains has created installations that intervene in and disrupt the conceptual foundations of European museum collecting and display. New World Wunderkammer is the first time she has utilized the holdings of a major museum to recontextualize hundreds of objects within the themes of memory, struggle, loss, and wonder. Following both a personal and professional trajectory, Mesa-Bains will weave elements from her previous installations into this work. The space will be completed by eight new prints made by the artist based on key pieces from the Fowler collection; images of artifacts will be layered with botanical, cartographic, and historical photographic references. This theater of wonder will animate the cultural landscape and human geography of the New World through objects of beauty and narratives of power.